What do I have in common with Vic Reeves?
Yes, the comedy and a love of surrealism (I got a first in my French surrealism module at Keele Uni*). But now we have both had an exhibition at Northampton Art Gallery and Museum.
Jim Moir's painting exhibition is called Romans, Daisies, Ones and Twos. It is on in the new posh bit right now until 14th August. I missed the opening night as I had comedy to get to, but I popped in yesterday. So did comedy promoter Mike Chase – of Comedy Crate – who sneaked up on me (I was listening to Philip Pullman in my ears as I was going round) and made me jump out of my skin. He told me he'd asked Jim to paint a picture of me, but he thought Jim had misheard as the painting now read "Donald Stott" – LOL.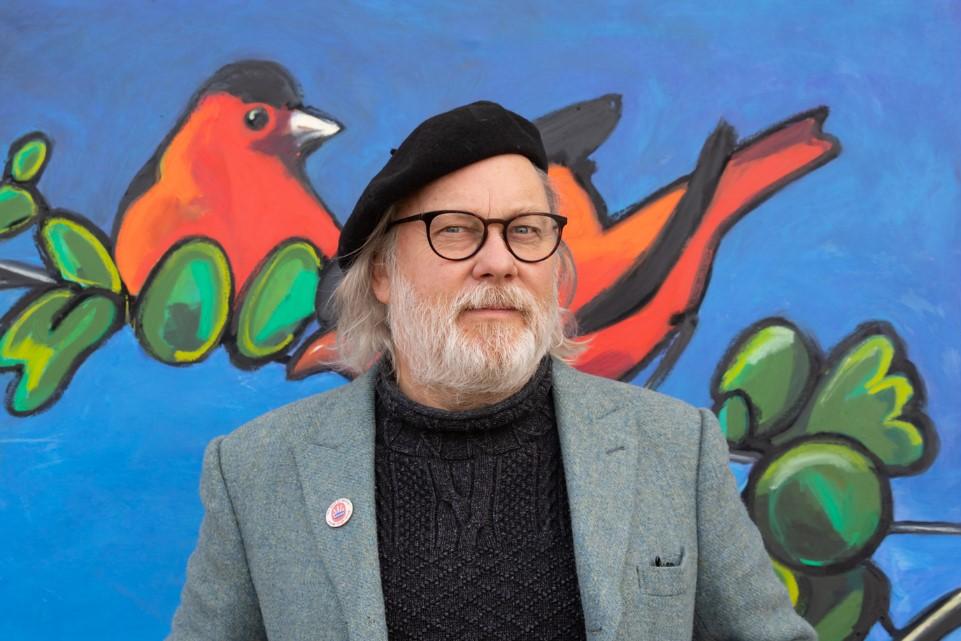 Jim/Vic is one of the creative minds I look up to the most of all artists currently doing stuff. His early stand-up and TV shows made use of the various comedy props and artwork he created, and I recall what a joyful little accessible piece of artistic wonder his book Sun Boiled Onions (1999) was, and a bold and daring thing to do in the 90s when people were even more inclined than they are now to insist their performing heroes stay in their strict little boxes. If there was anyone who could help us break down those barriers, it was Jim. He rode the wave of 90s pop culture, while simultaneously gently lampooning it, finding the perfect partners to propel his comedy musical nonsense out of his and Bob's skits to eminently listenable indie-pop – thanks The Wonderstuff, and EMF. He wrote excellent sitcoms. He acted. He presented. He reinvigorated the stale panel quiz show concept with Shooting Stars. Even now, I can't quite believe he got Will Self to be a team captain. That did actually happen, didn't it?
I've never met him. Would we even get on? I don't know… all I know is he is a huge inspiration to me. And then there's Bob Mortimer. Who doesn't love Bob Mortimer? Only a very sad person.
This exhibition is perfect for Northampton because there are rather a lot of shoes. Some of the smaller shoe pictures are very recent, and I think Jim must have spent a short while in the town earlier this year as I recognise some of the shoes he has chosen to paint, and they are definitely in the museum. I wonder if he also popped to Jeffery West and picked up some nice boots while he was here?
There are also some images that will be quite familiar, like the cyclops bear and various cool guy stances. There are blackbirds, choughs and owls that are perhaps a bit more conventional, but are very good. And everything is for sale, and pretty affordable – even if not in my budget right now. I would particularly love a painting of Rod Stewart's feet. This Christmas, Neil surprised me with a little painting of a man drinking a pint in a pub by local artist Nora O'Keefe. The man is wearing a stripey blazer and has spikily coiffed hair, and it was on display in a place we'd pop to for a drink after walking round Daventry and I always joked it was Rod Stewart, escaping his supermodel wife and celebrity lifestyle for five minutes, just randomly turning up in a pub and sitting at the bar, probably having a pint of mild to himself and a quiet few minutes. I would love that painting on top, and Jim Moir's depiction of his feet just below it, so if anyone has £1180 going spare, please let me know, as I am saving to pay the plasterer.
Oh, and if you wanted to know what my exhibition was, it was the one I created for the 400-year anniversary of the Northampton witch trials ten years ago. We had all the local witch trial stories on display and a few shoe charms found buried in the houses, plus poppets, Bellarmine jars and the like. It was also a vehicle for a bit of storytelling and a poetry show, and I was pretty pleased with how it got re-sold and taken round various museums, including this one in Kettering, where I was invited back to tell a few stories in 2018.
*Yes, I actually studied surrealism at Keele Uni! Unlike the surreal comedians I know, the French surrealists probably weren't that nice, and some of what they got up to would definitely be considered misogynistic in our day, but who doesn't love all the ants and melty clocks? To a point… "Avoir des fourmis" or 'having ants' is also pins and needles, and a metaphor for sexual frustration, i.e. those siren women not putting out. So now you know.
My tutor was Silvano Levy, a bit of a character to say the least, but considered one of the foremost experts on surrealism. He invited the class to the opening exhibition of British surrealist artist Conroy Maddox at Wolverhampton Art Gallery. Maddox was looking for new models to replicate his famous nun pictures and Silvano thought we might be interested and promised to introduce us. In the end, I was the only student that went! Silvano was delighted to see me, and immediately tried to introduce me into his circle of chatting men, which included Maddox himself plus Naked Ape guy Desmond Morris. But as I stepped towards them, not only did Morris look at me then turn round without saying hello, he very strangely moved and stepped in front of me so his back was in my face, closing off the circle. How rude! So Silvano directed me to the table with all the free wine on it, and said, "Well, if I were you, I would have as much of that as you like. Free wine, free wine." So I did. Thus was born my saying "free wine, free wine" – the cry to which I greet any arty opening where I can get sloshed. I also walked round the exhibition and saw the original nun pictures, and quite frankly I don't think my mother would have approved, so it's probably just as well Desmond Morris ruined that for me.